Geçtiğimiz günlerde gittiğimiz bir kurumda Windows server 2012 R2 üzerinde kurulu olan SCCM ve buna bağlı olan Agentlerde yaşadığımız bir güncelleme sorunu bulunuyordu. Öncelikli olarak SCCM den deploy edilen güncellemeleri diğer agent'lar alıyor ancak yükleme aşamasına geldiğinde "yükleme ileri bir tarihe atıldı" ya da "yüklenecek" ibaresi ile kalmaktaydı.
DataTransfer loğlarına ve cache loglarına baktığımızda ise güncellemeler indirilmiş ve sırada bekliyordu. Bu yüzden, bilgisayar istemci durumuna ilişkin ilave kontroller yaptık, her şey yerli yerindeydi, Engelleme yoktu, Geçersiz bir durum yoktu, hatta hedef bilgisayarı belki düzelir diye defalarca yeniden başlattık. Şans eseri çözümü forumların birinde gezerken fark ettik ve denemek için hemen uyguladık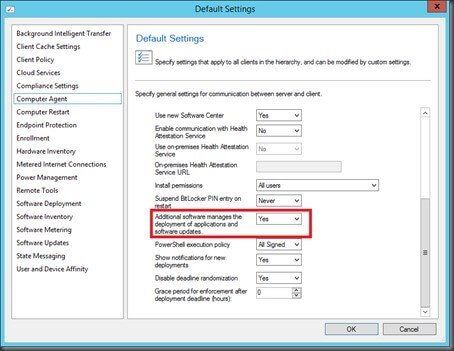 Bu ayara ulaşmak için SCCM de bulunan "Administrator Settings" seçip hemen altında bulunan "Client Settings" bölümü içerisinde "Default Settings" giriş yapıyorsunuz. Bu alanda "Computer Agent" içerisinde "Additional software manages the deployment of applications and software updates" seçeneği bulunuyor. "Yes" olarak gözüken ayarı "No" Olarak değiştiriyorsunuz. Ve tüm makinelere güncelleme sorunsuz bir şekilde yükleniyor.
Varsayılan Ayar "No" olarak karşınıza çıkacak zaten daha sonradan bir ayar yapmamanızı öneriyorum. Hala "No" olarak seçili ve güncellemeler geçmiyor ise "Machine Policy Retrieval & Evaluation Cycle" ve "Application Deployment Evaluation Cycle" Çalıştırın.
Dipnot: Her iki ihtimalle bahsi geçen ayar yapıldıktan sonra otomatik olarak güncelleştirmeler yüklenmeye başlayacaktır.